Business and organization sponsored flu shot clinics
Hosting an on-site flu shot clinic is a proactive and effective way to protect your employees and keep them healthy, productive and well, all year round. We work with companies of all sizes and can accommodate your needs, whether you have one work location or many.
Why flu shots?
Each flu season an estimated 17 million workdays are lost due to illness, equaling approximately $7 billion in lost productivity and sick days. The annual direct costs in the United States is $4.6 billion for adult hospitalization, medications and outpatient visits. With each case of influenza resulting in an average of three to five sick days and the likelihood of infecting others in the workplace, flu vaccinations easily pay for themselves. Vaccination is the best way to prevent the flu.
Why Spectrum Health?
Our visiting nurse association has served the West Michigan community for over 120 years. Each clinic is staffed by Spectrum Health-employed licensed nurses who undergo a rigorous orientation, including background checks and fingerprinting, and are required to complete their annual training on compliance. Our experience in delivering flu vaccinations instills confidence that your employees will receive a vaccine specifically formulated against the new strains of influenza. We have a full-service flu vaccine program to facilitate your workplace/organization clinic by providing supplies, vaccines, consent forms and vaccine information statements.
No initial cost to companies
Convenient appointment times
Skilled nursing staff administer flu vaccines at your location
Billed directly to your insurance provider and/or your organization
Potential to reduce sick days and loss in productivity
Promotes healthy lifestyles for your staff
Vaccine information statements
Vaccine information statements in other languages are available upon request.
Flu shot clinic request form
Thank you for considering Spectrum Health Visiting Nurse Association as the provider for your on-site flu shot clinic. Flu vaccines are key in helping your employees, staff and community stay healthy. Fill out the form below to begin the process of requesting an on-site flu shot clinic at your business or organization. If you have any questions, call us at 616.486.3050.
Our service area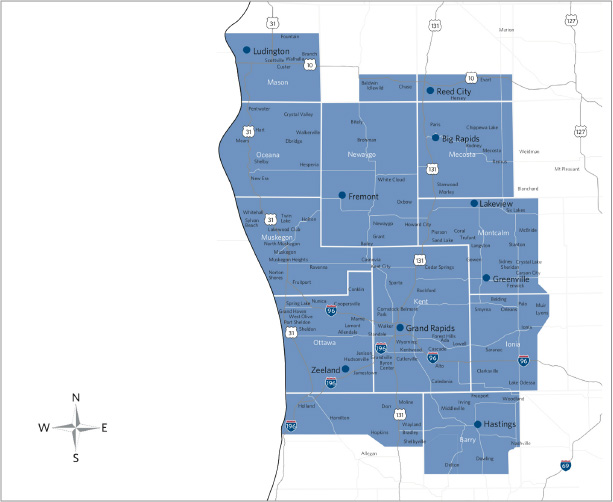 Frequently asked questions
Who can attend flu shot clinics?
People ages five and above, per our discretion, can be vaccinated at a flu shot clinic.
What insurances are accepted?
We accept many insurance plans. Contact us at 616.486.3050 to discuss specific insurance-related questions you may have.
How does billing work?
We can either bill your organization directly, or through individual insurance plans.
How many participants are required?
There must be at least 15 participants in order to schedule an on-site flu shot clinic.
When can on-site flu shot clinics be scheduled?
We are able to accommodate most schedules or shifts.
Schedule a Flu Shot Clinic