Orthopedic sports medicine fellowship

The sports medicine section at Spectrum Health Medical Group Orthopedics prides itself on providing comprehensive care for conditions involving the shoulder, elbow, hip, and knee. Our faculty are all fellowship trained in sports medicine, shoulder/elbow or hip arthroscopy. The orthopedic sports medicine fellowship is a one-year program designed to train orthopedic physicians in sports medicine, soft tissue related knee, shoulder, elbow, hip injuries, and other operative and nonoperative musculoskeletal conditions.
Overview
The orthopedic sports medicine fellowship is an intensive training program in advanced techniques within sports medicine. There will be extensive exposure to caring for elite athletes of all ages, various sports and in diverse settings. This includes sideline, training room and mass event coverage. The fellow will be exposed to a high volume of:
ACL reconstructions (more than 250 annually)
Multi-ligament knee reconstructions
Cartilage repair/meniscus repair and transplantation
Rotator cuff repair
Arthroscopic/open shoulder instability
Elbow arthroscopy
UCL repair/reconstruction
Shoulder arthroplasty
Hip arthroscopy labral repair/reconstruction
The objectives of the fellowship will be to provide comprehensive exposure to the clinical and surgical aspects of treating sports medicine related conditions. The fellow will have access to the expertise of skilled orthopedic surgeons, physical therapists and athletic trainers, and will work collaboratively to develop treatment plans for patients from the initial assessment through rehabilitation and recovery. As a fellow, you will work alongside fellowship trained nonoperative sports medicine physicians that perform a high volume of ultrasound guided procedures, PRP/regenerative medicine and concussion medicine. Fellows will gain experience in developing clinical research and will participate in journal clubs, skills labs and resident education.
Official health care provider
West Michigan Whitecaps
Grand Rapids Ballet
Amway River Bank Run
Ferris State University Bulldogs
Davenport University Panthers
Spectrum Health has one of the largest athletic trainer outreach programs in the region and has affiliations with over 20 area high schools, three collegiate universities, including NCAA division II football, the Detroit Tigers affiliate professional baseball team, and a host of community and club partnerships. The fellow will assist with the care of these athletes by providing game coverage, pre-participation physicals and training room evaluations.
How to apply
Candidate must be a board eligible MD or DO who has completed an accredited orthopaedic surgery residency program. Applicants must be eligible for permanent Michigan licensure.
Submit a CV, one-page cover letter and contact information to Travis Menge, MD, at travis.menge@spectrumhealth.org. Interviews will begin immediately, and selection will be made for an August 1, 2022 start date.
Program director
Associate program director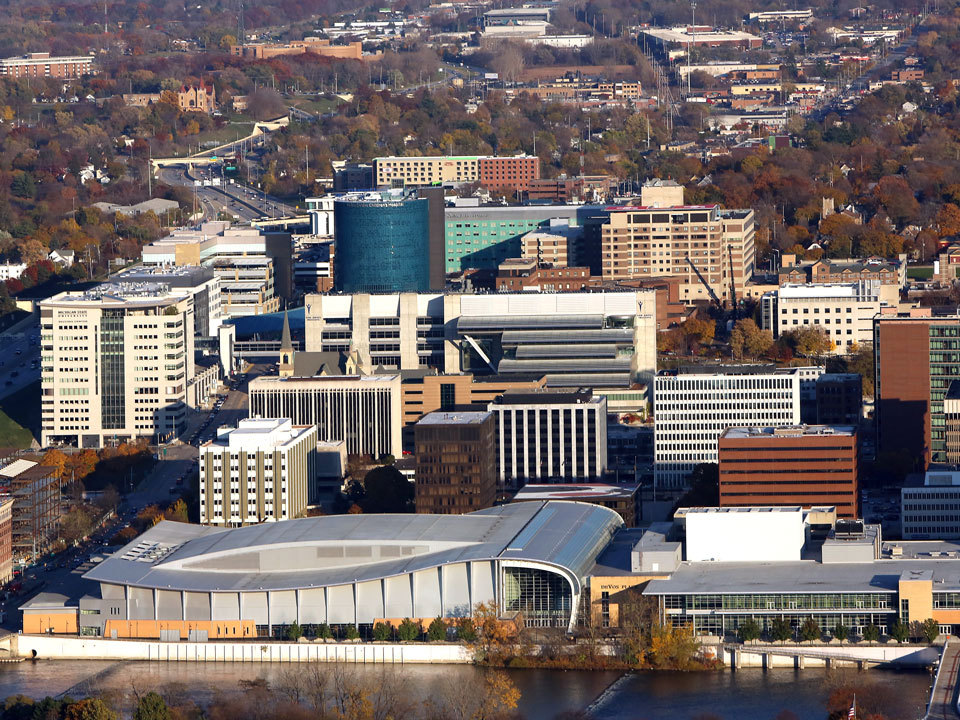 West Michigan - A great place to call home
As the second largest city in Michigan, Grand Rapids is an amazing place to work, live, play and explore. This vibrant city is known for some of the best festivals in the world, like ArtPrize, and is only a short 45 minute drive to Lake Michigan. The city has been recognized by numerous sources, including The New York Times, where Grand Rapids was ranked as one of the 52 Places to Go. Additionally, Thrillist considers Grand Rapids the best food city in the state of Michigan, and in 2018, Trulia chose Grand Rapids as the Hottest Real Estate Market to Watch in the country. Grand Rapids is a city with endless experiences for people of every age.