Contractor orientation frequently asked questions
How and where do I complete contractor orientation?
Send an email to: contractororientation@spectrumhealth.org
Include in the email:
Copy of your driver's license
TB screening results from within the year
A login ID and instructions will be sent to you within 7-10 days
How long does it take to complete contractor orientation training?
A minimum of one to two hours, depending upon each person.
If I have technical problems when completing contractor orientation, what do I do?
Check your login ID
Ensure you are using a Mac or PC computer (Does not work on other devices: iPad, etc.)
Make certain you register when logging in

Navigate to the Spectrum Health site
On the left in the quick links, click "Register"
Enter your login ID
Follow the instructions to verify information and create a password
Once that's finished, you can login using your login ID and newly created password
Try again at a different time
Refer to trouble shooting link
If the system freezes before I complete my training, what do I do?
Once I take contractor orientation training, am I required to take it every year?
No, you do not have to complete the training module again
NOTE: In special circumstances, the facility development & construction department reserves the right to request contractors to repeat training.
After completing the online contractor orientation, where can I obtain my ID badge?
Spectrum Health Butterworth Hospital or Spectrum Health Blodgett Hospital security services.
Photo taken and obtain an ID badge.
How do I reactivate my ID badge?
If I change companies, do I need a new ID badge? Who do I notify?
What if I lost my badge?
Go to Butterworth Hospital or Blodgett Hospital security services to receive a new badge
Badge replacement fee: $10
If I already have a badge, do I need a new badge when I update my TB test?
No, if you had an access badge it can be reactivated.
How do I obtain badge access?
TB screening, TB test, T-spot
Tuberculosis screenings
Tuberculosis (TB) screening is required according to our infection control and prevention annual TB risk assessment for all staff, employees, students, physicians, residents, contracted staff, and active service volunteers. Staff members who have never had a positive TB skin test will be tested with a two-step or T-spot prior to start date and then annually. If a person has a history of a positive TB test, initial documentation is requested of their health department TB clinic medical evaluation, any treatment received, and negative chest x-ray report; then a periodic TB symptom survey must be completed at least annually.
Persons who have received the BCG vaccine in childhood and have reacted to a previous TB skin test, or provide verbal history of a positive TB test without documentation, or might be allergic to the PPD, serum will be considered for an IGRA T-Spot TB blood test. Staff members with positive TB test results are required to follow up at their county health department. The TB test has been determined to be safe in pregnancy and is required for employment as determined by infection control and prevention's TB risk assessment.
How do I schedule an appointment for TB screening or T-spot?
Can a nurse come to our office to perform TB testing?
What if I have tested positive for TB in the past?
How often do I need to go for TB screening?
TB screening is required annually.
How much does it cost for TB testing and/or T-spot?
Who pays for TB testing and/or T-spot?
Your company usually covers the cost.
What is the difference between a TB test and T-spot test?
TB test is a skin test used for detecting TB which requires a follow up appointment within 48 to 72 hours.
T-spot is another test that can be used for detecting TB. It is a blood test that not does require a follow-up appointment.
Do I need a flu shot?
How do I obtain an updated TB expiration sticker?
You will automatically receive an expiration sticker via US mail after TB screening has been submitted.
Where do I place my TB expiration date sticker on my ID badge?
In the upper right hand corner, above your photo.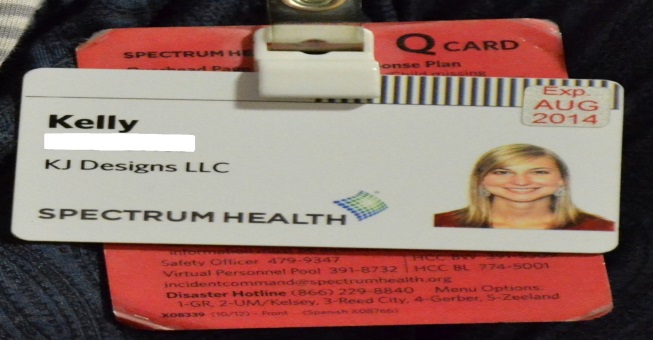 Supplier Registration
After a short survey, interested suppliers will be added to the registration queue.