Spectrum Health is ready for you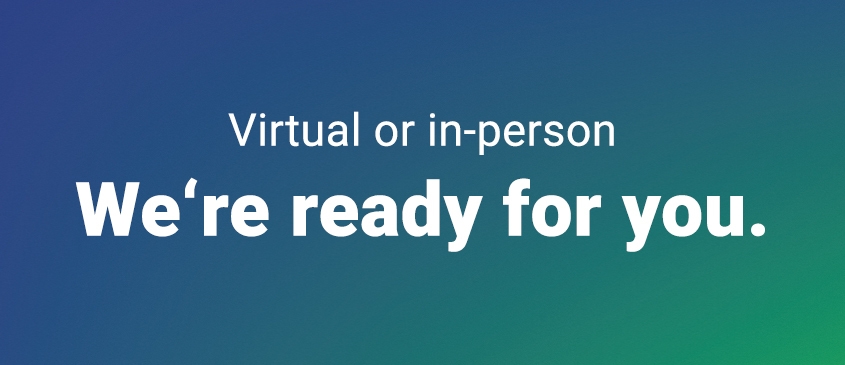 Make an Appointment
Virtual or in-person
For 25 years, we have been here to support your health. We realize this is more important now than ever before. At Spectrum Health, we have considered your entire experience, down to the smallest detail. And we will never stop improving it.
How We're Doing That
Curbside Care
We now offer primary health curbside visits across West Michigan, curbside flu shots at urgent care centers in Kent County as well as curbside service at Lemmen-Holton Cancer Pavilion.
We launched one of the Midwest's first curbside vaccination programs, with more than 40 sites operational across West Michigan. This new primary health curbside service is for all ages and includes all vaccinations, including childhood vaccinations and flu vaccines. Curbside visits also include a host of services such blood pressure checks, B12 injections and strep tests. Appointments may be scheduled by calling the office and requesting a curbside visit.
Get your flu shot through a curbside visit 7 days a week at any Kent County urgent care center. You can register online ahead of arriving to reserve your place "in line" through our online tool, or just come see us.
We provide curbside service to patients at Lemmen-Holton Cancer Pavilion for some cancer care including port flushes, port lab draws and some non-chemotherapy injections.
Curbside visits will be coded and billed as an urgent care visit on your billing statement.
Virtual Waiting Room
We are reducing the use of waiting rooms in ambulatory and hospital locations as much as possible to further support safe social distancing through enhanced pre-registration workflows and a virtual check-in upon arrival. Patients who use the virtual waiting room can wait in their vehicle until notified it's time to enter the building.
MyChart App
The MyChart App is care where you need it, when you need it. Conduct scheduled or on-demand video visits with 1000+ Spectrum Health providers, readily access your medical records, request a prescription refill, send a message to your provider or pay a bill, and much more.
Extended Hours
All of our urgent cares and most of our primary care offices offer extended hours to give you more options for in-person visits.
Please note that we are temporarily limiting family/visitor presence in our hospitals and care sites.
All patients and visitors/guests will be expected to follow guidelines to help increase their safety and limit potential exposures to COVID-19 while in Spectrum Health facilities, such as wearing a mask at all times, social distancing when possible and practicing good hand hygiene. All visitors will be asked health screening questions and have their temperature checked upon arrival. Visitors with COVID-19 symptoms or a fever will be asked to visit at another time.
If you need assistance, call 877.362.8362. If you need help finding a doctor, they will be able to assist or you can visit Find a Doctor.
Virtual Care
We are continuing to offer expanded virtual care options in MyChart through additional providers and appointments. This allows you to request the type of care you need, at the time you need it, without having to leave your home.
/patient-and-family-resources/my-chart-app
If you do not have a MyChart account, follow the instructions for how to download and use these services. Call 877.308.5083 for additional support with creating or accessing your MyChart account.
In-Person Care
If you need to come into the hospital or one of our offices, we are taking additional safety measures to care for everyone who comes through our door, including:
Frequent and extensive cleaning, especially in high touch areas.
Screening employees, patients and visitors, including temperature checks for patients and visitors.
Requiring everyone to use hand sanitizer and wear masks, which are provided onsite.
Having team members wear appropriate personal protective equipment.
Reducing the use of waiting rooms in hospital and ambulatory locations as much as possible, by offering virtual check-in through a call or text upon arrival and waiting in the vehicle until time to enter building.
Offering curbside visits for immunizations, injections and tests as well as blood pressure checks.
Restructuring appointment scheduling to minimize wait times and limit contact between patients.
Placing appropriate signage throughout spaces to maintain social distancing.
Treating patients with COVID-19 in isolated areas in the hospitals.
If you need assistance, call 877.362.8362. If you need help finding a doctor, they will be able to assist or you can visit Find a Doctor.
Urgent Care
If you need to come into an urgent care center, in addition to the in-person measures above, we have changed our procedures in Kent County locations to manage patient flow and minimize time spent in higher traffic areas like check-in and check-out.
Here is how it works:
When you are headed to one of our urgent care locations, please register online ahead of arriving to reserve your place "in line" through our online tool.
Once you arrive at your location, drive up to our curbside check-in for instructions. Once a room is available, we will alert you, meet you at the door and bring you straight to an exam room. This allows us to help bypass the waiting room altogether for most patients.
After your appointment, you can return to your vehicle, and we will call you with discharge information.
Spectrum Health team members have been trained on safe practices to help prevent the spread of infection and are prepared to care for you. We are ready for you.