Pediatric tracheostomy sputum culture, ED and inpatient, guideline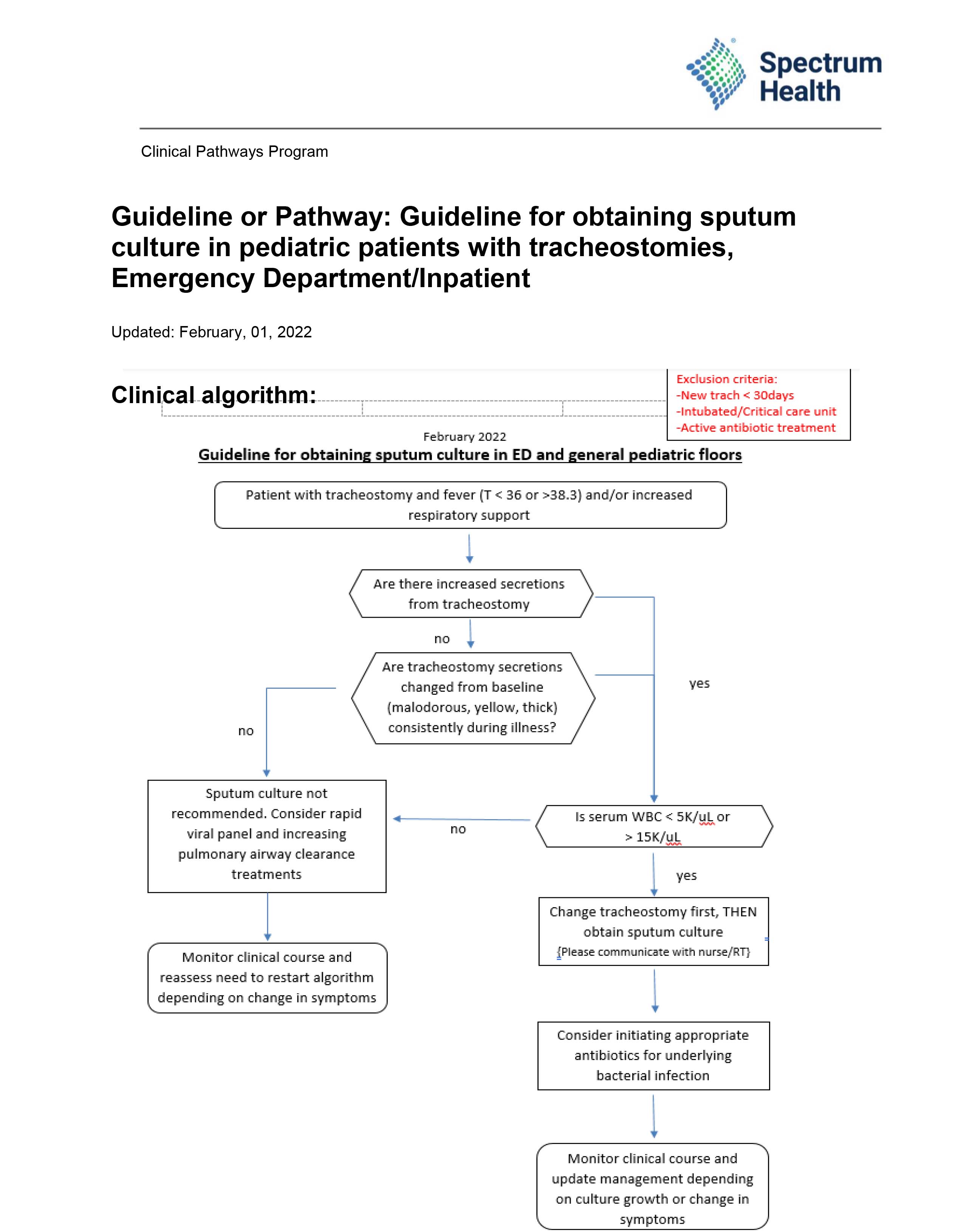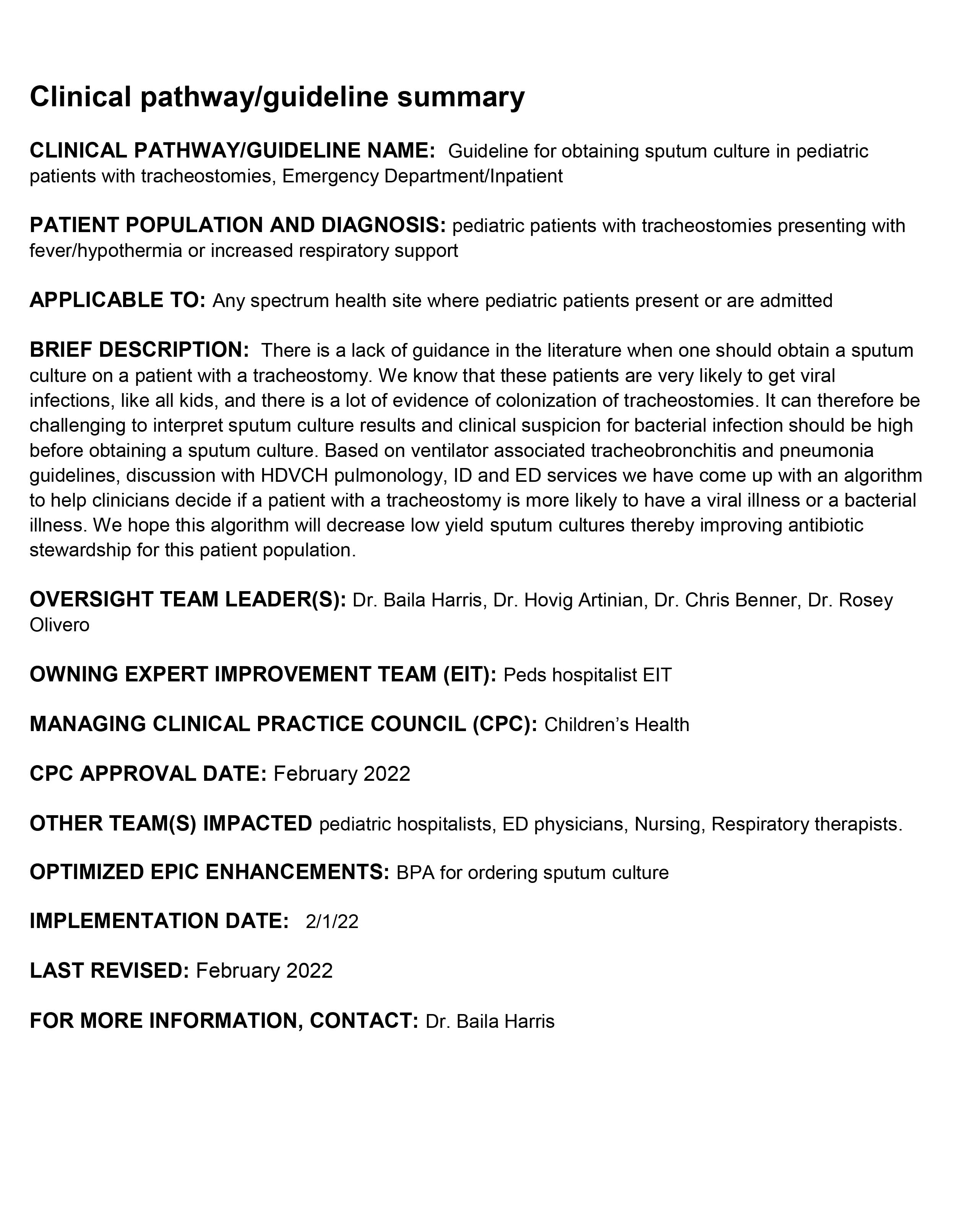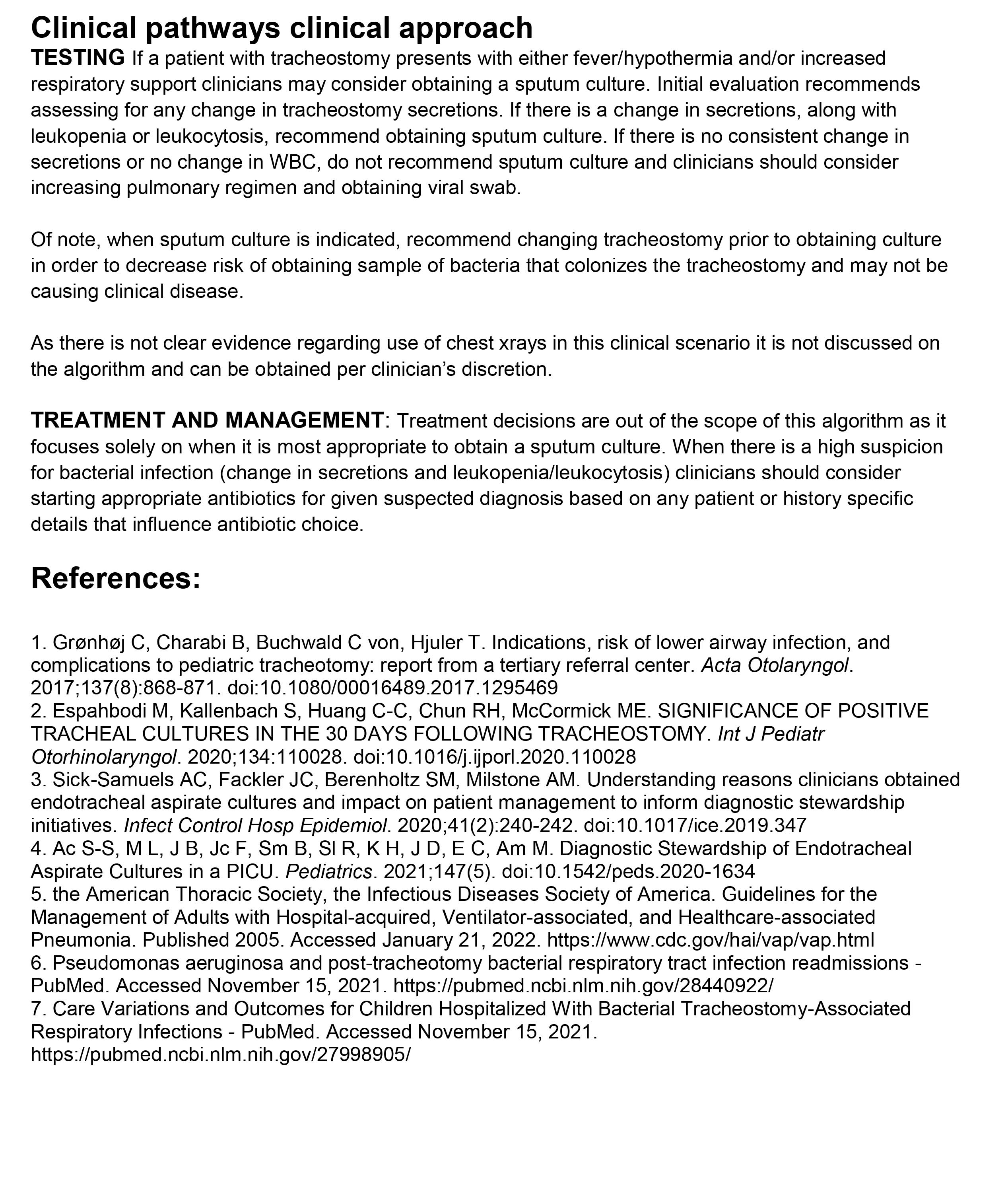 References
Grønhøj C, Charabi B, Buchwald C von, Hjuler T. Indications, risk of lower airway infection, and complications to pediatric tracheotomy: report from a tertiary referral center. Acta Otolaryngol. 2017;137(8):868-871. doi:10.1080/00016489.2017.1295469
Espahbodi M, Kallenbach S, Huang C-C, Chun RH, McCormick ME. SIGNIFICANCE OF POSITIVE TRACHEAL CULTURES IN THE 30 DAYS FOLLOWING TRACHEOSTOMY. Int J Pediatr Otorhinolaryngol. 2020;134:110028. doi:10.1016/j.ijporl.2020.110028
Sick-Samuels AC, Fackler JC, Berenholtz SM, Milstone AM. Understanding reasons clinicians obtained endotracheal aspirate cultures and impact on patient management to inform diagnostic stewardship initiatives. Infect Control Hosp Epidemiol. 2020;41(2):240-242. doi:10.1017/ice.2019.347
Ac S-S, M L, J B, Jc F, Sm B, Sl R, K H, J D, E C, Am M. Diagnostic Stewardship of Endotracheal Aspirate Cultures in a PICU. Pediatrics. 2021;147(5). doi:10.1542/peds.2020-1634
The American Thoracic Society, the Infectious Diseases Society of America. Guidelines for the Management of Adults with Hospital-acquired, Ventilator-associated, and Healthcare-associated Pneumonia. Published 2005. Accessed January 21, 2022. https://www.cdc.gov/hai/vap/va...
Pseudomonas aeruginosa and post-tracheotomy bacterial respiratory tract infection readmissions - PubMed. Accessed November 15, 2021. https://pubmed.ncbi.nlm.nih.go...
Care Variations and Outcomes for Children Hospitalized With Bacterial Tracheostomy-Associated Respiratory Infections - PubMed. Accessed November 15, 2021. https://pubmed.ncbi.nlm.nih.go...