Community acquired pneumonia, emergency department (ED) and inpatient, pathway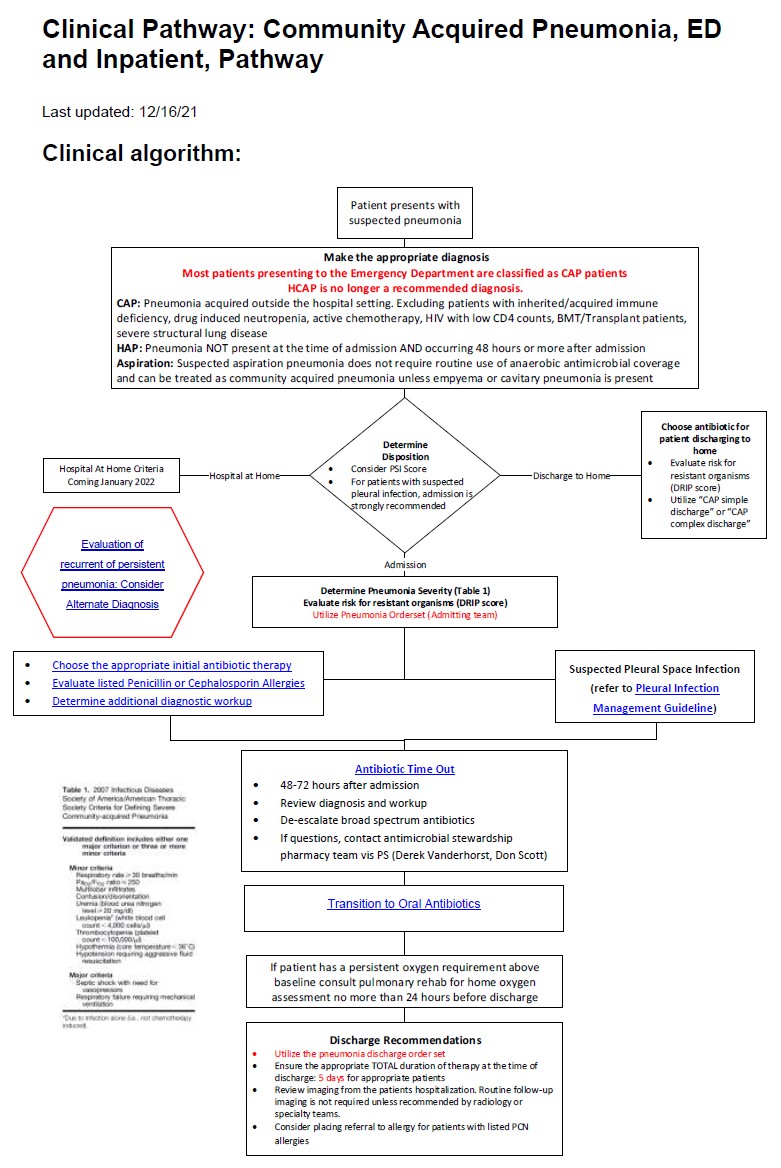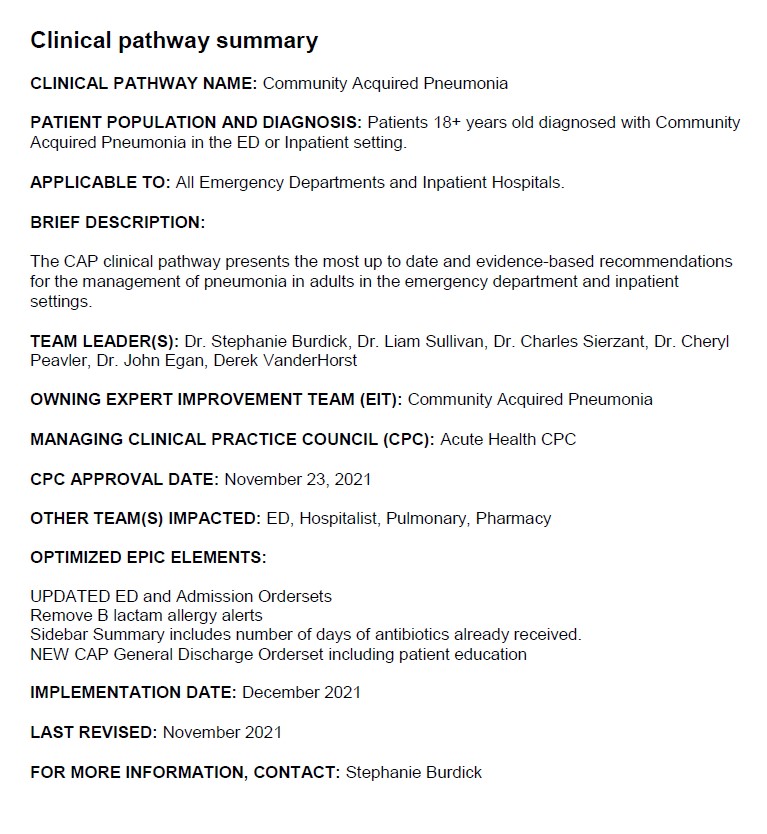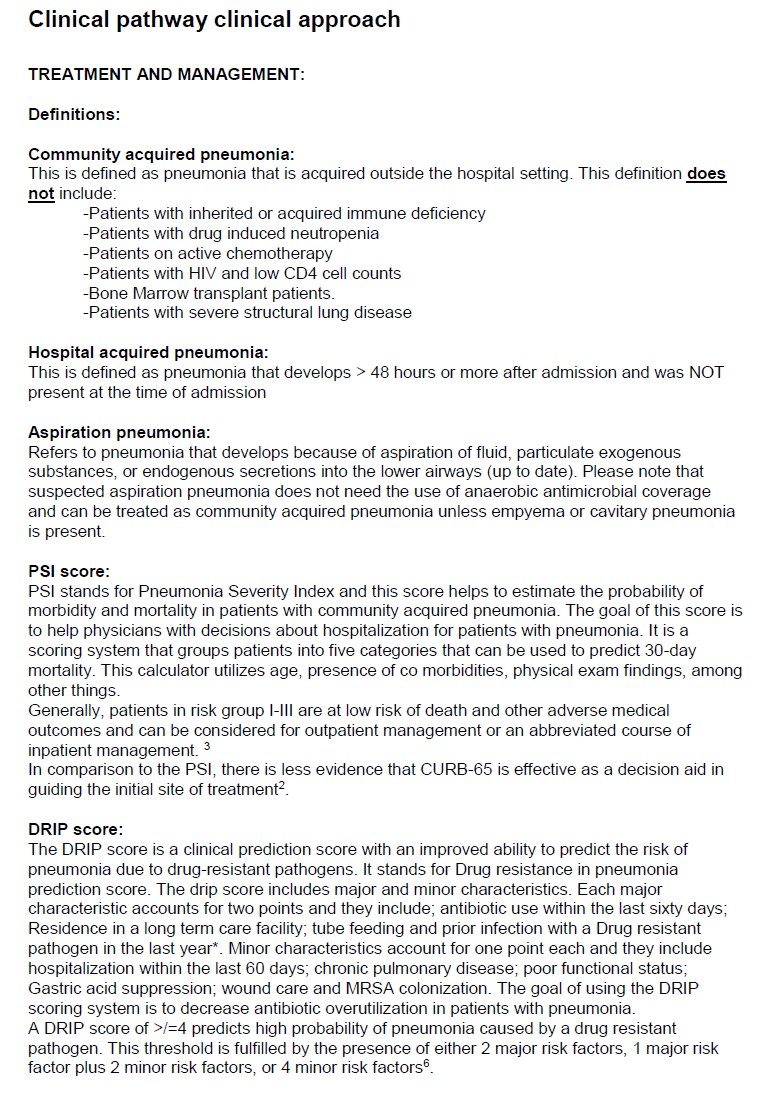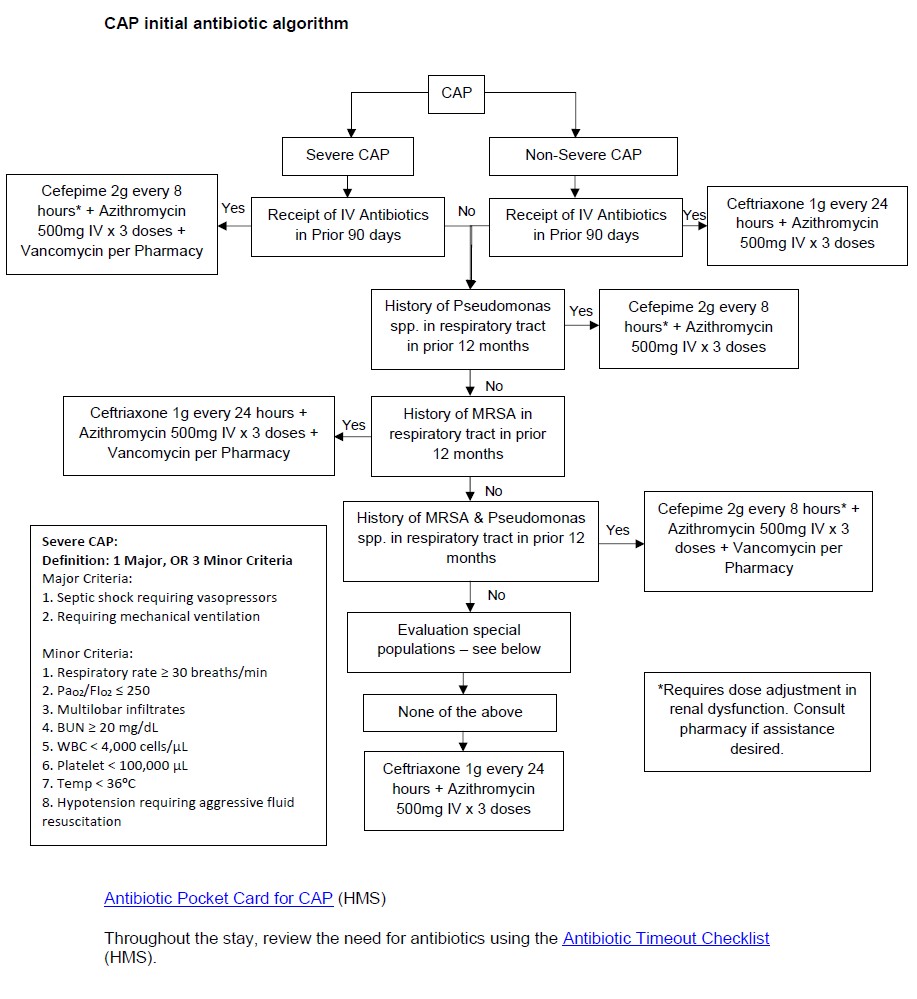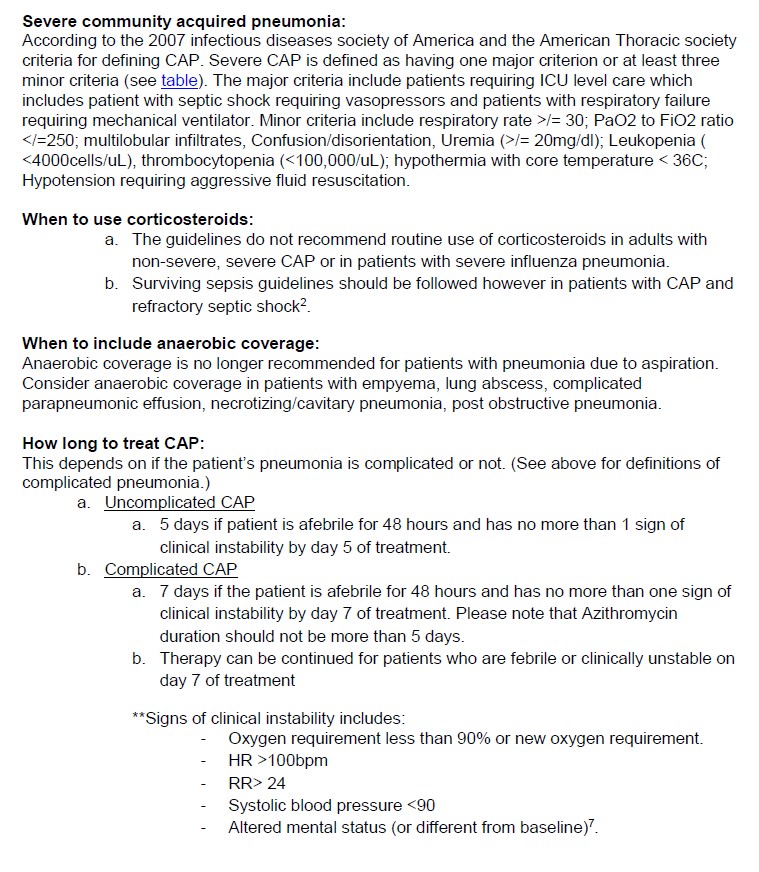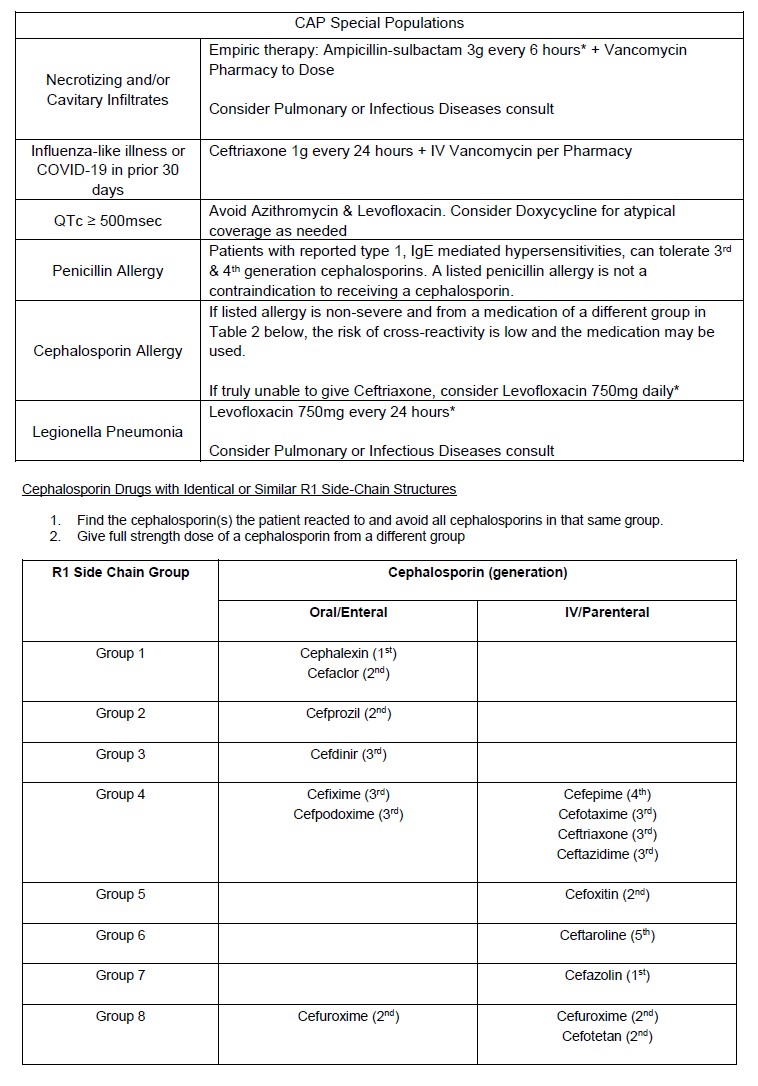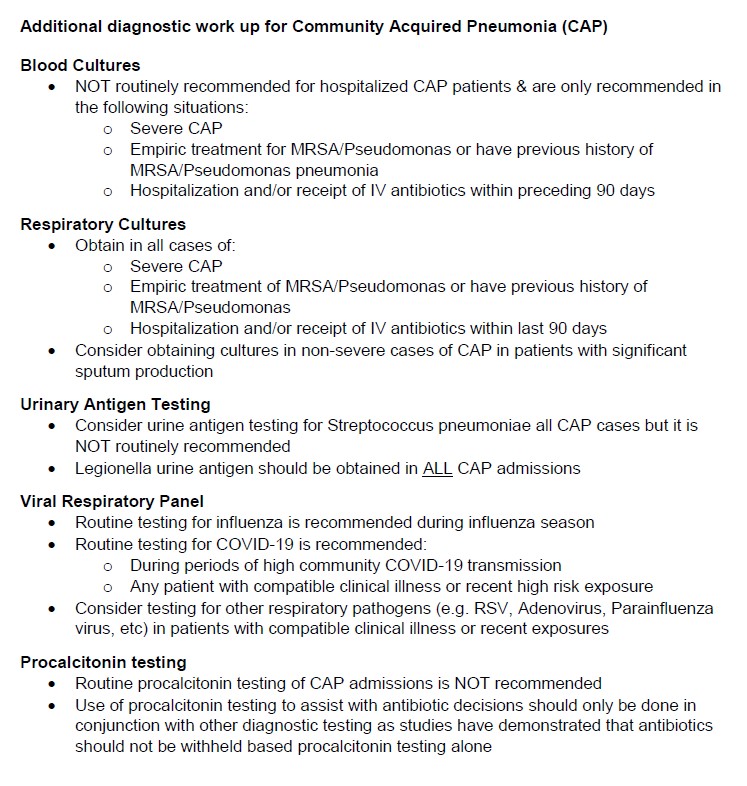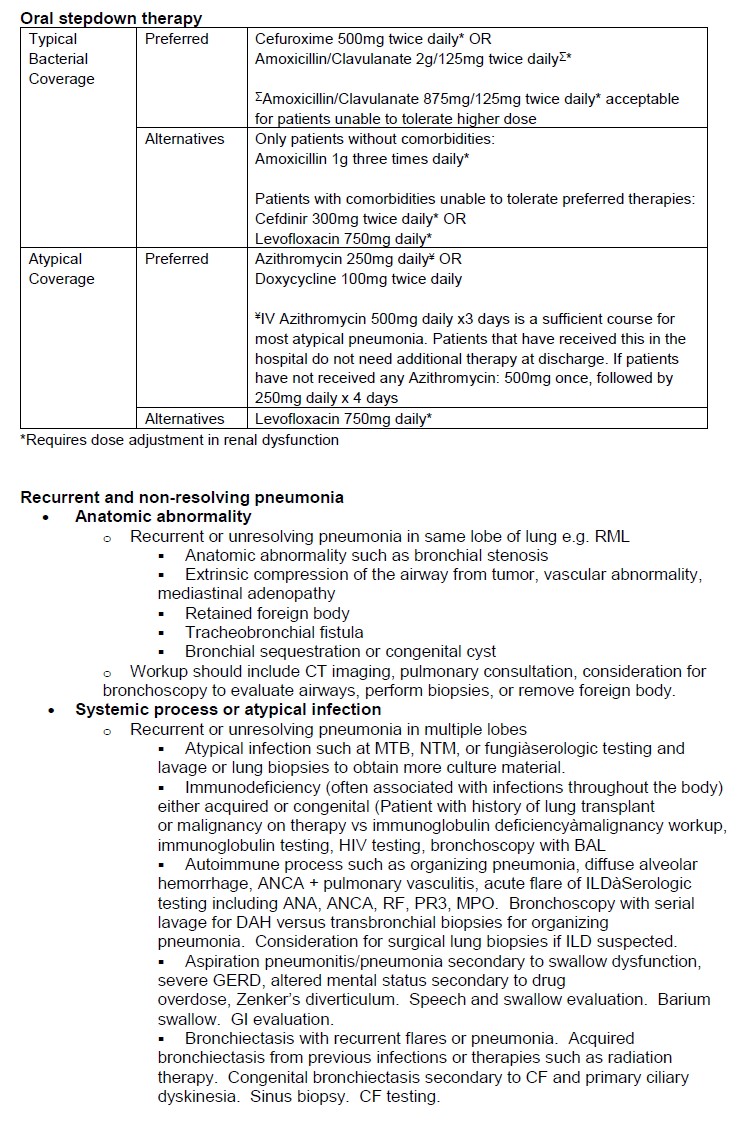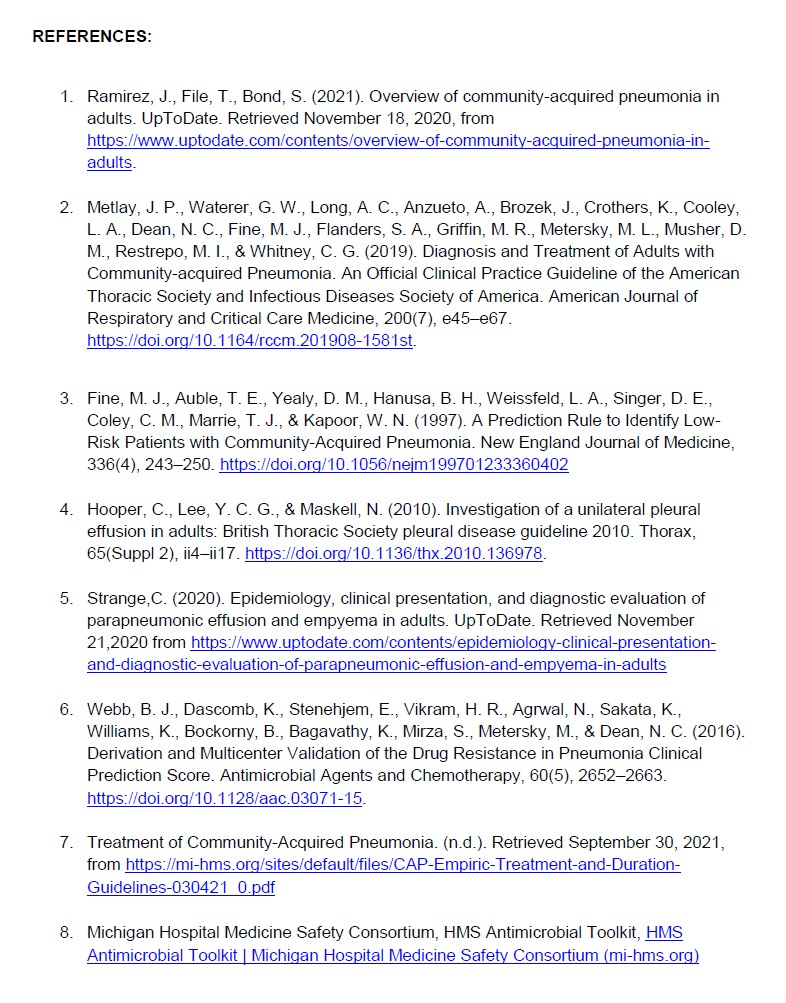 References
Ramirez, J., File, T., Bond, S. (2021). Overview of community-acquired pneumonia in adults. UpToDate. Retrieved November 18, 2020.
Metlay, J. P., Waterer, G. W., Long, A. C., Anzueto, A., Brozek, J., Crothers, K., Cooley, L. A., Dean, N. C., Fine, M. J., Flanders, S. A., Griffin, M. R., Metersky, M. L., Musher, D. M., Restrepo, M. I., & Whitney, C. G. (2019). Diagnosis and Treatment of Adults with Community-acquired Pneumonia. An Official Clinical Practice Guideline of the American Thoracic Society and Infectious Diseases Society of America. American Journal of Respiratory and Critical Care Medicine, 200(7), e45–e67.
Fine, M. J., Auble, T. E., Yealy, D. M., Hanusa, B. H., Weissfeld, L. A., Singer, D. E., Coley, C. M., Marrie, T. J., & Kapoor, W. N. (1997). A Prediction Rule to Identify LowRisk Patients with Community-Acquired Pneumonia. New England Journal of Medicine, 336(4), 243–250.
Hooper, C., Lee, Y. C. G., & Maskell, N. (2010). Investigation of a unilateral pleural effusion in adults: British Thoracic Society pleural disease guideline 2010. Thorax, 65(Suppl 2), ii4–ii17.
Strange,C. (2020). Epidemiology, clinical presentation, and diagnostic evaluation of parapneumonic effusion and empyema in adults. UpToDate. Retrieved November 21,2020.
Webb, B. J., Dascomb, K., Stenehjem, E., Vikram, H. R., Agrwal, N., Sakata, K., Williams, K., Bockorny, B., Bagavathy, K., Mirza, S., Metersky, M., & Dean, N. C. (2016). Derivation and Multicenter Validation of the Drug Resistance in Pneumonia Clinical Prediction Score. Antimicrobial Agents and Chemotherapy, 60(5), 2652–2663.
Treatment of Community-Acquired Pneumonia. (n.d.). Retrieved September 30, 2021.
Michigan Hospital Medicine Safety Consortium, HMS Antimicrobial Toolkit, HMS Antimicrobial Toolkit | Michigan Hospital Medicine Safety Consortium (mi-hms.org)